On-the-Job Licensure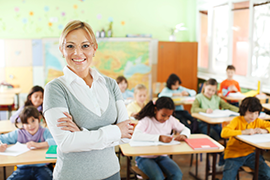 Your choice to become a classroom teacher—whether you become an elementary, special education, or bilingual/ESL teacher—is an important one. NTEC specializes in on-the-job teacher certification programs. In Illinois these are commonly referred to as alternative licensure programs, but some states (e.g., California) refer to them as internship programs. Whether referred to as alternative certification or internship programs, participants are able to work as full-time paid teachers while completing the coursework to earn certification or licensure.
The on-the-job programs offered through NTEC allow you to enter the classroom as a full-time teacher after one (1) semester of coursework, earn your teaching license and Master of Arts in Teaching (M.A.T.) after teaching for two (2) years.
Learn how you can become a teacher through NTEC's Alternative Licensure Program »
The programs are organized into two (2) parts: Jump Start and Apprenticeship.
During the Jump Start semester, courses are offered during the weekend so you can maintain your current employment. During the remainder of the program, you will work as a full-time paid teacher.
The salary schedules for most districts allow you to earn a raise once you have completed your master's degree.
Contact NTEC today to find out more about our alternative approach to earning a teaching license.
All students are eligible to apply for financial aid.