About Us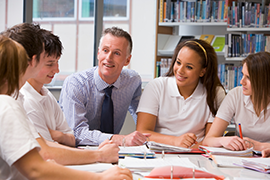 NTEC is a private company specializing in helping:
working adults change careers to become teachers
school districts to recruit highly-qualified teachers for high-needs jobs, and
colleges and universities develop high-quality on-the-job alternative certification programs
How We Do It
First, we bring potential teachers together with the schools that need them. From there, we connect our teaching students to the colleges that can provide them with the education, teaching degree and certification they need to become qualified teaching professionals.
With the help of our college partners, we build high-quality alternative certification programs that provide career changers the opportunity to work as teachers while earning their license and Illinois teaching certification.
With the alternative certification programs in place, NTEC partners with school districts to help them recruit adults committed to the doing what's best for the children and families they serve. To be considered for our programs, students must be interested in teaching within high-needs areas, such as special education and bilingual education.
Finally, and most importantly, we look for people who have a passion for teaching and learning. Most of our candidates are working adults with families of their own. They hold degrees outside of education and have built their careers in other fields. Over the years, our teachers have come from banking, law, management and medicine. However, they all have one thing in common: a commitment to improving the lives of children in their communities.
If you're ready to pursue your teaching degree, or if you'd like more information about NTEC and our programs, contact us today. We can help you earn your Illinois teaching certification and begin your career as a teacher who truly makes a difference in students' lives.